By Yasmeen Abdul Bawab
The hustle and bustle of a big town can be an intimidating place for small business owners, but the Victory Grill has made its name in the Stockton area.
The local business opened its doors back in 2011 and has only grown in popularity since. Victory Grill is very involved with their community, catering to high schools and other town festivities, their name has become well known.
Victory Grill has everything from macaroni salad to tri-tip sandwiches to cake pops.
The business has earned themselves a 4.5 rating on Yelp and are currently working on earning the title "Best of San Joaquin."
Ying Thao, cashier at the Victory Grill says that the business has even attempted, and succeeded, at breaking a state wide record back in 2013, "we made the biggest burger in California, I believe it was 300, maybe 400 pounds." To this day the small local business still holds the record, weighing in at exactly 349 pounds.
With a menu big enough to cover the span of an entire wall, you could say the Victory Grill has a lot of variety to choose from. Michelle Rathjen, caterer for the Victory Grill, says "it is a little family joint that produces great food. A LOT of food for the price you pay, you will not leave hungry."
That being said, the Victory Grill has something a little more crazy to offer locals, for 13.95 you could get yourself a pound of meat, a pound of fries, and even get your picture on their Wall of Victory. The Victory Grill offers its more daring customers the "bacon infused challenge."
Along side the burger and fries, there really is no time limit. The business is slightly understaffed leaving them too busy to be keeping an eye on every competitor that walks through the door.
Although there is not a time limit, there will always be someone who wants to set a record anyways. Rathjen tells me, "the actual record is four minutes and like, 28 seconds…something crazy!"
Taking on the challenge
After learning about the challenge, there was no doubt in my mind that I would have to put the legitimacy to the test. With a wall full of pictures, the challenge was seemingly doable so I brought in one of the hungriest guys I know, Juan Garibay.
With no time limit the challenge was a go, just finish the food and get his picture taken.
Garibay, however, failed to finish all the food. With one burger down, he had a little less than a pound of fries to go but he just could not get them down. One of the employees even offered to "redrop" the fries, which is essentially dropping them in to the frier again to heat them up but even that did not help him. However, he did have a few tips for future competitors. "Just do it fast and prepare beforehand…best of wishes to you."
It is not uncommon for competitors to not finish their food, with about three people attempting it each month there is not too many pictures on the Wall of Victory.
Employee of the joint, Thao says, "it is super big you know, I do not know how they manage it, they all have their different ways of eating it, some times they take it apart and eat it.. I mean its huge."
All in all, the Victory Grill has many dishes to satisfy any consumer. Whether you want a burger or a salad you can find it all here. With a loving crew and good ole' comfort food, it is no wonder they are such a local success.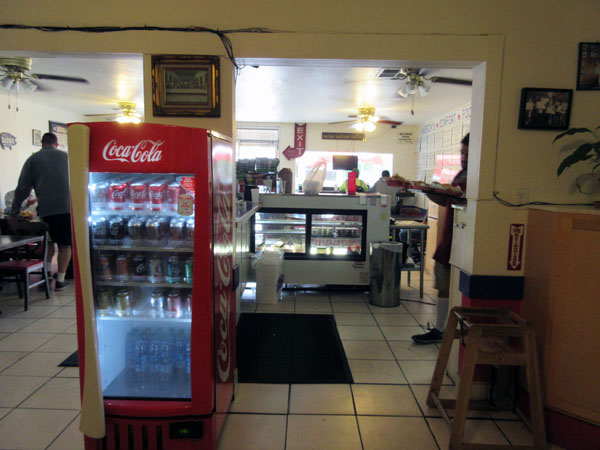 In the Back
A view of the Victory Grill from the back of the restaurant.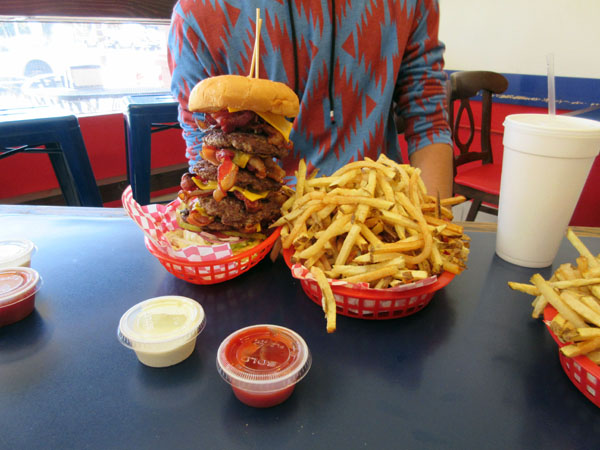 Bacon challenge
The 'bacon infused challenge'- a pound of fries and a burger composed of a pound of meat with all the fixens.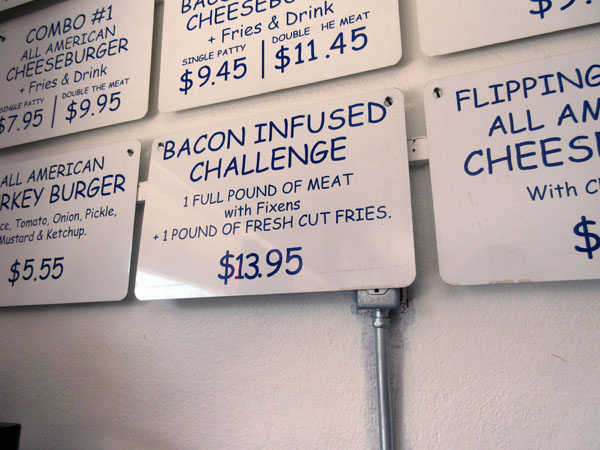 Sign close up
Close up of sign, full description of bacon infused challenge.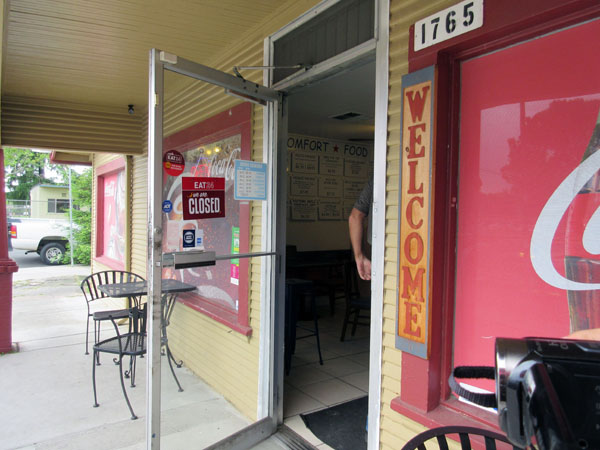 Front door
Inviting front entrance.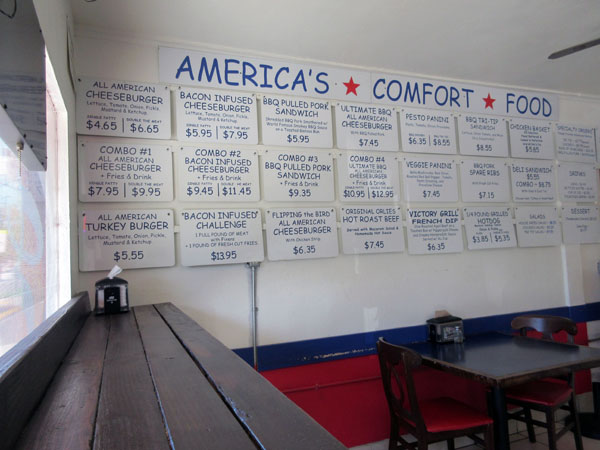 Menu
A view of the menu which covers an entire wall.
Soda Machine
A coca-cola themes wall.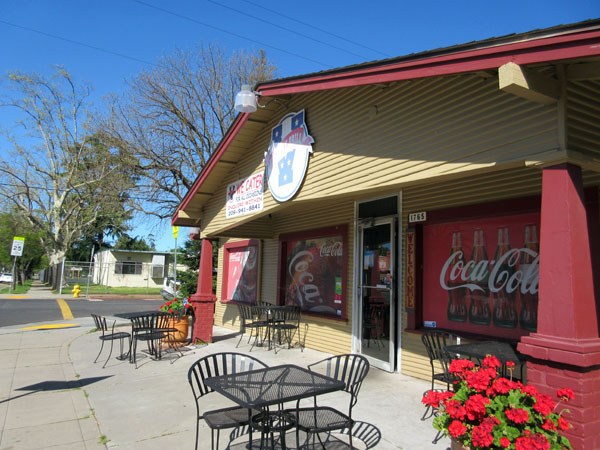 Front
Victory grill from the front.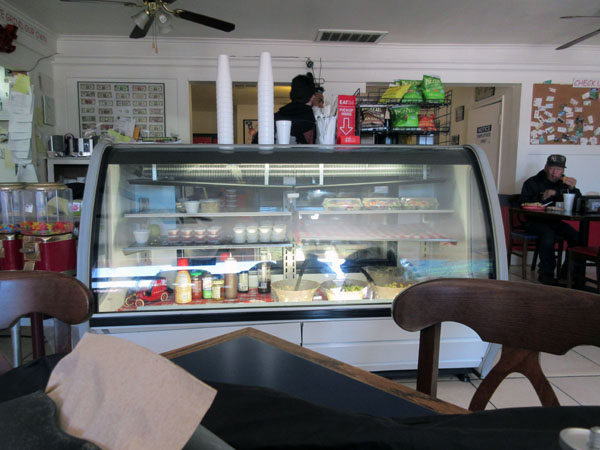 Refrigerator
A refrigerator inside the Victory Grill filled with salads and condiments.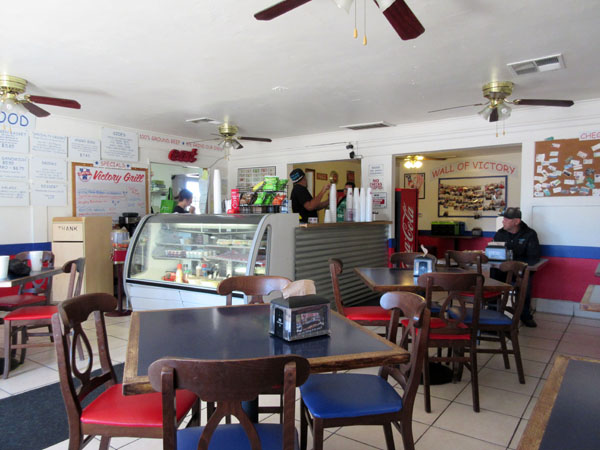 Inside
A view of the inside of the Victory Grill.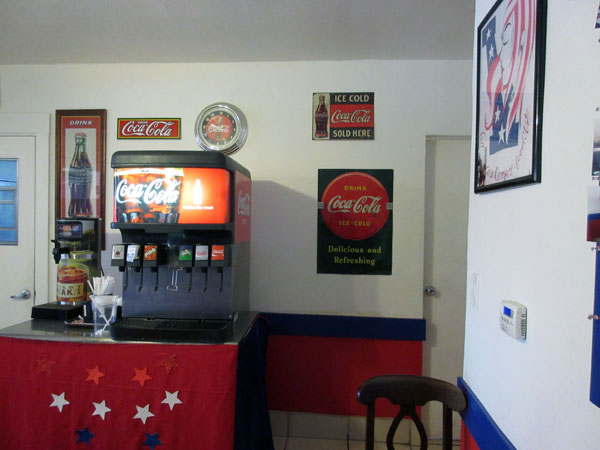 Soda machine
A Coca-Cola themed wall.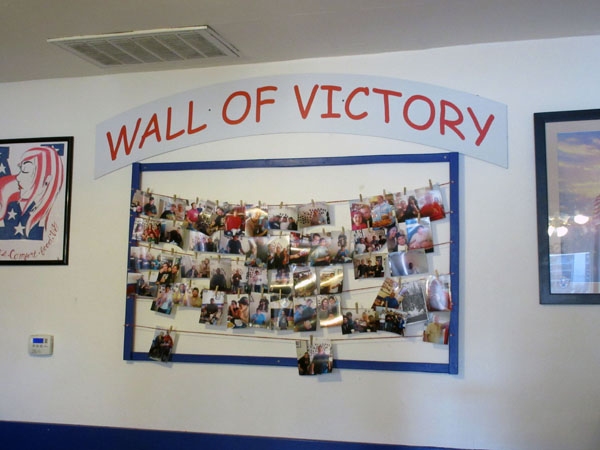 Wall of Victory
Wall of Victory displays all the winners of the bacon infused challenge.