With success of popular reality show, the art of doing drag has become mainstream, making stars and providing opportunities of those who don the brushes to different personas
By Catlan Nguyen
Ever wonder what having an alter ego would be like? Drag culture and the art of drag gives anyone the ability to explore other sides of themselves and build confidence.
Drag is the art of dressing up as the opposite sex in makeup and costume and lip-syncing/dancing for entertainment purposes.In recent years, drag culture has hit mainstream thanks to television shows such as "RuPaul's Drag Race."
But the culture goes back ages, with drag queens – known as men portraying women – being popularized and brought into modern consciousness on screen in "Too Wong Foo, Thanks For Everything, Julie Newmar" in 1995.
Drag queens are typically men portraying as females.
The notoriety means that what was once considered theater is now pulling in diverse crowds, including college students. Though many more people are accepting of drag culture, local queen Katana Rei, known as Robert Yoshino, finds sometimes people forget they're human.
"It's like we're Disneyland characters," said Rei. "Nobody cares who's inside the suit. People just think we're glamorous. It's kind of like NASCAR for gays — they want to see if we crash."
A recent performance at the University of the Pacific's Queer Drag Coffee House event on April 5 garnered a large crowd.Local queen Hellen Heels, who goes by Jonathan Lopez when not in persona, hosted the event and introduced all of the queens and other performances, such as poetry readings.
Rei performed that night in a stunning highlighter-yellow outfit.
Rei's fluid dance movements and expressive passion to the music captivated the enthusiastic crowd.
There was no lack of cheers or tips for every queen and each had their own style of performing.
Heels said how "RuPaul's Drag Race" and local drag shows are very different. At the end of the day, "RuPaul's Drag Race" is reality television produced and edited to convey a story.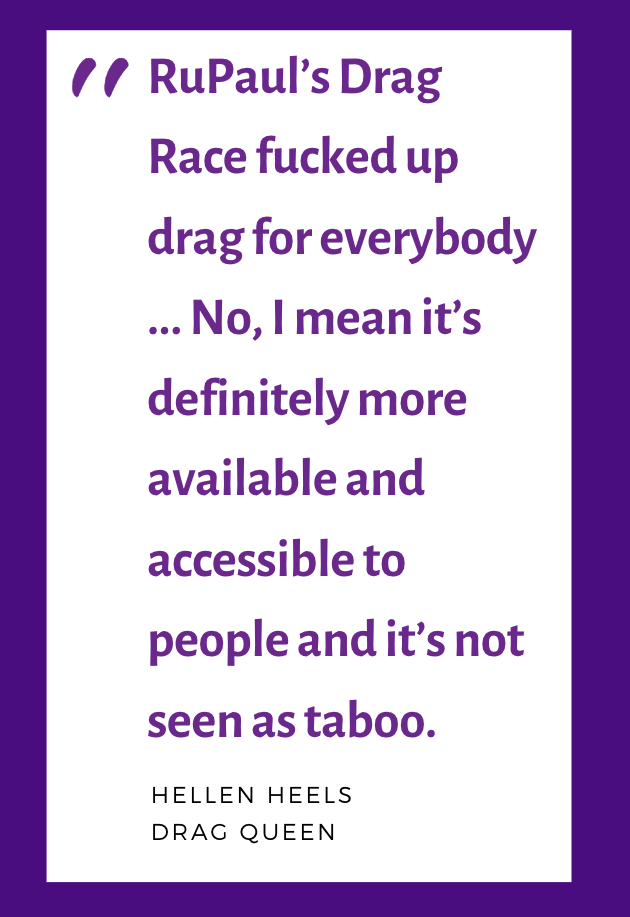 "'RuPaul's Drag Race' fucked up drag for everybody," said Heels. "No, I mean it's definitely more available and accessible to people and it's not seen as taboo."
Heels got into drag because Rei, a good friend, had been doing it for a year.
"I used to (disc jockey) and (video jockey) at our local gay bar and then I was watching the girls do drag and I was just like 'I can do that,'" said Heels.
Heels was supportive of Rei's drag career and endeavors. Rei even notes how Heels was her biggest champion and would buy her drag outfits and shoes from Goodwill.
"Hellen Heels was like a mini-manager for me before she was interested in it," said Rei.
Rei's first ever drag performance was at the Pacific's drag show about seven years ago.
While Heels has learned a lot about drag from Rei, she said the two are actually different in their styles and approach. Rei is hyper-focused on perfecting her makeup, while Heels focuses on the performance aspect and is also in charge of hosting and organizing. Heels is the first one to show up to a venue before a drag show to set up microphones, audio, lineup, the DJ booth, and more.
"I like entertaining. I like when people are really in awe of the art we do," said Heels.
Heels and Rei, along with other drag queens, perform every Thursday night at the Paradise Nightclub located at 10114 Lower Sacramento Road on the outskirts of Stockton.
"Fifty years ago when it was built, Paradise Nightclub had to be on the outskirts of town because it was a gay club," said Heels. "It's better for it to be away from busy areas so no homophobic people would come in and cause a ruckus. Eventually, other businesses started popping up around it."
Rei also notes how drag culture has a bit of a vanity to it and to get into drag, you have to like attention.
Rei, 28, was born in Hayward and then lived in Fremont. She moved to Stockton in 1993.Heels is contracted to perform in various cities such as Stockton, Sacramento, Reno and San Francisco. She also performs in Fresno and Davis. Her drag career has even even taken her to Hawaii with an all-expenses paid trip.
Heels biggest advice to aspiring drag queens is to work for free at first at any venue they can find.
Heels has two drag "daughters" or aspiring drag queens who she mentors and helps. One of which is Julianna Budget, or Ricardo Joseph Vasquez, and the other is Vesper Wheels, or Derrick Scott.
"I'm a Go-Go dancer so I see a lot of drag queens and one time we had a Go-Go competition and I was more flamboyant with my dance movements and some of the local drag queens were like 'you should do drag,'" said Wheels. "I never acted on it until last year when we had the employee drag show."
Wheels notes how intimidating Heels was at shows because of her confidence. Wheels has only performed twice so far and emphasizes how expensive the makeup is along with how hard it is to dance in towering heels.
The beauty of being a queen, though, is that they make it all look so easy.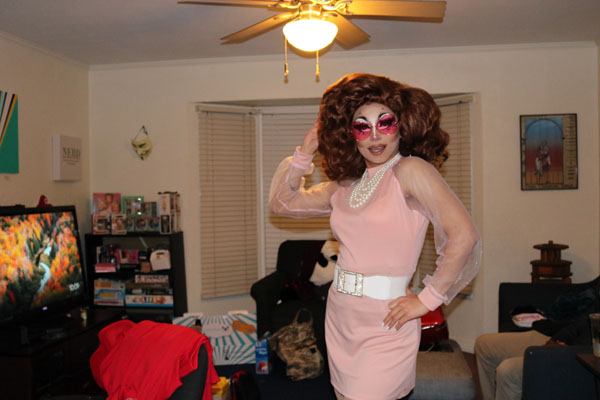 Julianna Budget or Ricardo Joseph Vasquez in her drag outfit before going to Paradise Nightclub.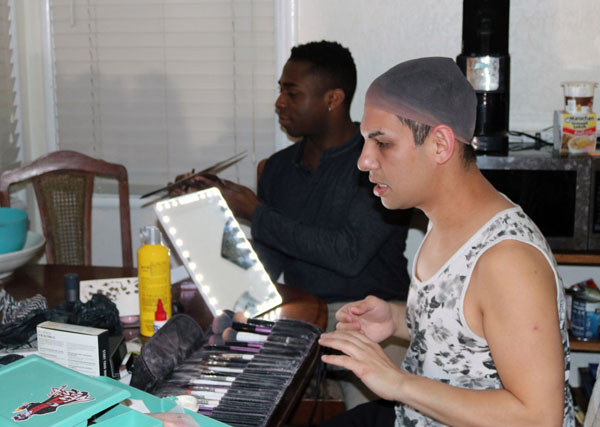 Hellen Heels or Jonathan Lopez getting into full drag and giving aspiring drag queen Vesper Wheels or Derrick Scott tips on how to do drag makeup.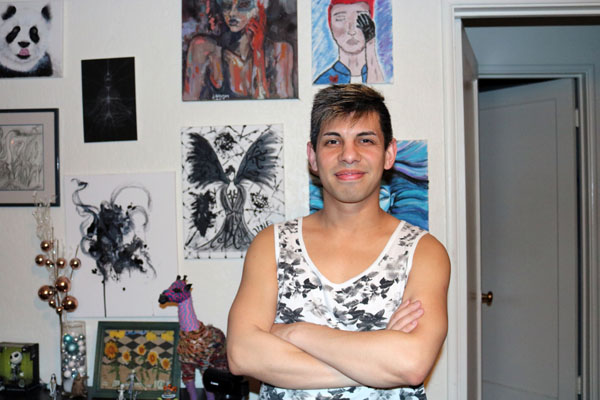 Jonathan Lopez before he becomes Hellen Heels.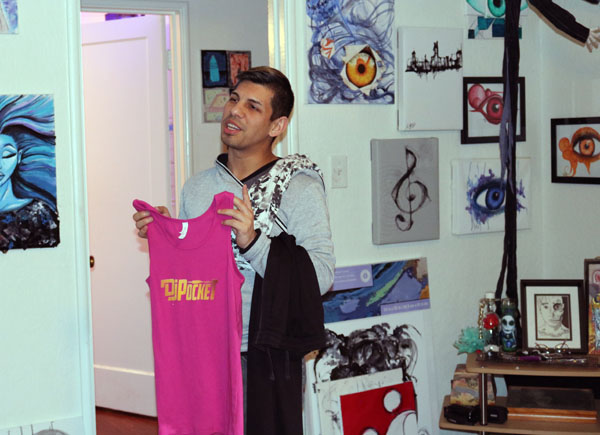 Lopez showing his new Hellen Heels merchandise rough drafts.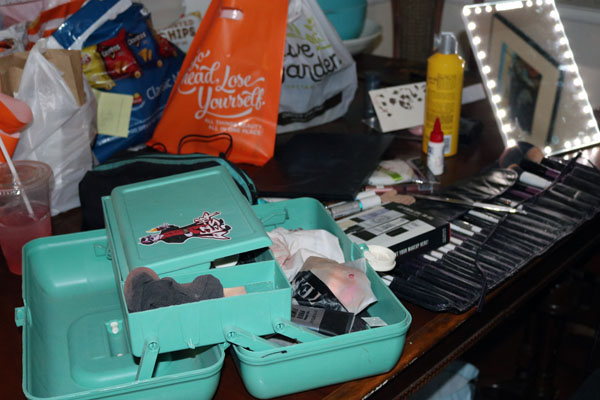 Hellen Heels glamourous getting ready setup at her house.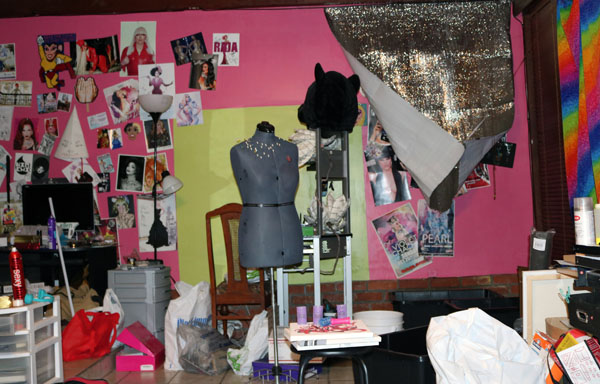 Katana Rei and Hellen Heels "Drag" room where they get ready, store outfits, shoes, wigs and more. Photos of drag queens that inspire the two adorn one of the walls.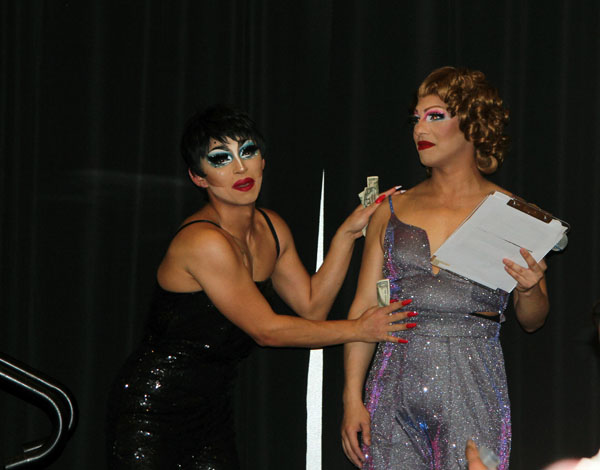 Julianna Budget and Hellen Heels performing at the 2019 UOP Queer Drag Coffee House event.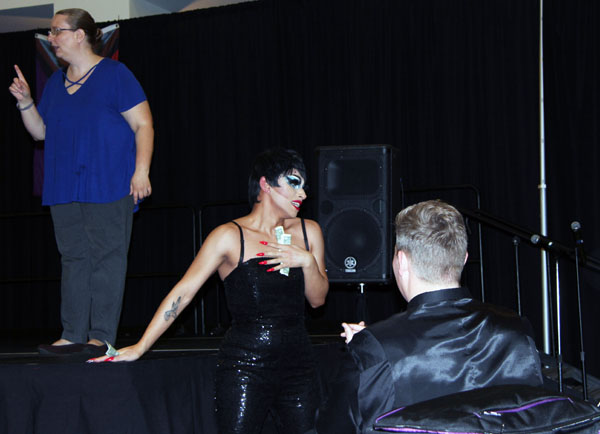 Julianna Budget performing her signature Eliza Doolittle performance at the 2019 UOP Queer Drag Coffee House event.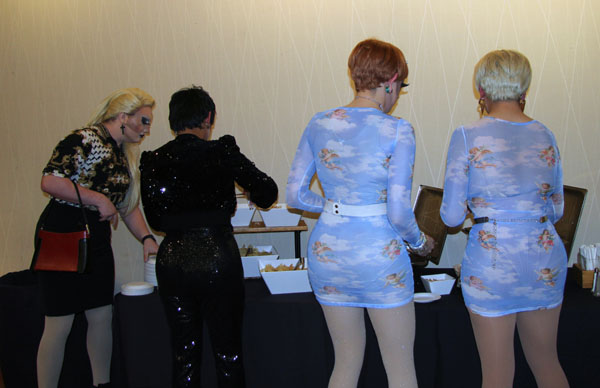 Some drag queens getting food before their performance at the UOP Queer Drag Coffee House event.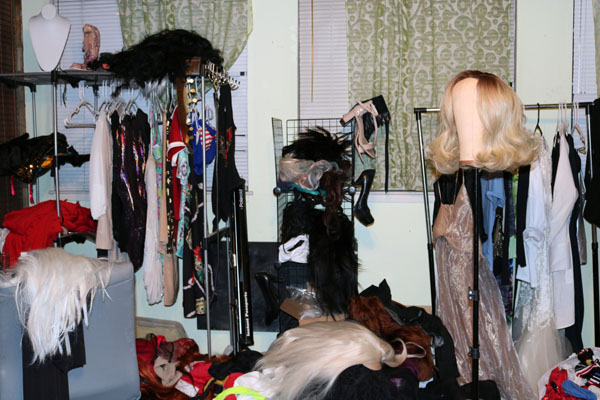 Inside Katana Rei and Hellen Heels drag room.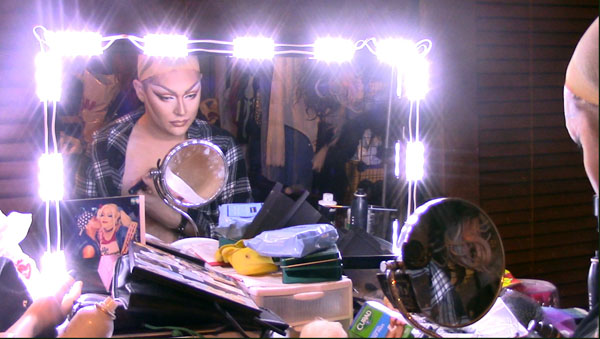 Katana Rei finishing her makeup before a Valentine's Day performance.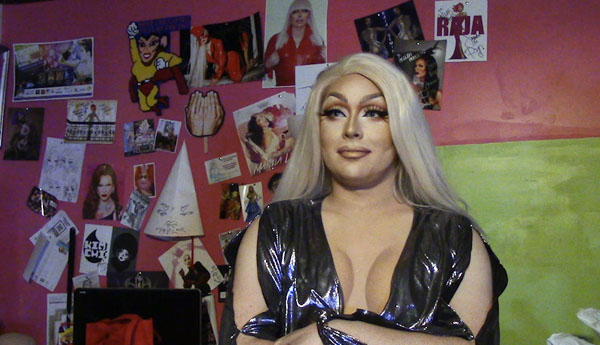 Katana Rei in her finished drag outfit plus wig.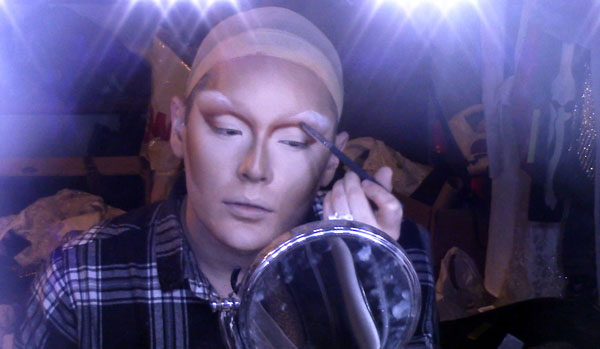 Katana Rei getting detailed with her eyeshadow.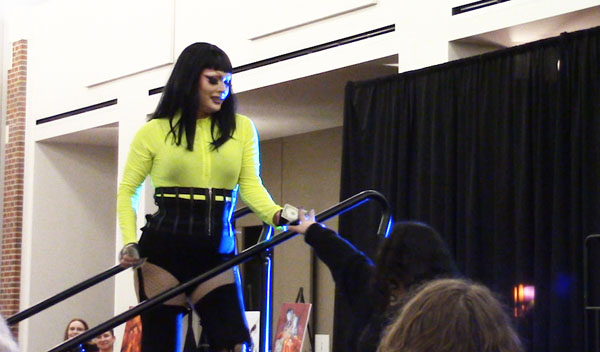 Katana Rei performing at the 2019 UOP Queer Drag Coffee House event.