By Caroline Batch
Nine individuals — and a dog named Tanner — are finding refreshing, new ways to converge art and education in the heart of downtown Stockton. At the Hatch Workshop, hands-on experience reigns for local makers, pushing for a new flavor of handcrafting.
The name explains the vision, as Hatch represents the incubation for arts and entrepreneurship through workspace for emerging makers and artists.
"When this space first got moved into by the team, you know, I think it was Malaki and Rowen; were envisioning it as a design studio. Like where can we go to make stuff," stated Elazar Abraham, digital creative specialist at Hatch.
"Well that doesn't make sense, there's something much bigger at play here," Abraham said.
Fine crafts such as woodworking, metalworking, and ceramics are diminishing from the high-school classroom setting. The Hatch team has a solution to keep this artisan lifestyle moving.
Fine crafts such as woodworking, metalworking, and ceramics are diminishing from the high-school classroom setting. The Hatch team has a solution to keep this artisan lifestyle moving.
From San Francisco to New York to Seattle and beyond, graduate students focusing on art, education, nonprofit business and philosophy collaborated and moved to the city of Stockton about two years ago.
Hannah Craig, organizing and outreach director with the Hatch Workshop, studied at University of San Francisco as an entrepreneurship and innovation major and said her and her team, "loved the energy that Stockton has to bring."
 While the future of industrial jobs is likely automation — manual labor being done by computers and machines — the Hatch team likes to think that no one can take away the art in fine craft.
Thus, their own school for students to progress in the arts and entrepreneurship field is something Hatch hopes to bring to the Stockton community.
"We came to Stockton, and kind of just took over a 35,000 square foot warehouse to start our programming," stated Craig. Table saws, digital fabrication machines, and pottery kilns are in their facility and ready to use by the end of this summer.
Coming out of the incubator, the nonprofit seeks to benefit the community through a series of programs in youth education, production team, community involvement, and art shows expressing unique industrial design.
"Then the idea that we had is to have our production team that is comprised of our members and students who have worked to a certain level of proficiency; so we will be able to use those levels to kind of shorthand who is at what level" says Abraham.
Hatch team members plan to make eccentric pieces for the public. Not only can you be a student, but you can also apply to be apart of the masters at Hatch in any area of fine art to share your techniques with the rest of the community and students.
Rowan Diloia, shop director at Hatch, and Abraham had recently woodworked a long-gated high-top table for High Water Brewing Company, coming soon near downtown Lodi.
Although they love the philosophy that foreshadows the craft, Abraham says, "it doesn't have to be… it's never going to be helpful to try and push an idea that's going to help people."
Although they love the philosophy that foreshadows the craft, Abraham says, "it doesn't have to be… it's never going to be helpful to try and push an idea that's going to help people."
Although downtown is brightening up under the scope of new businesses, the Hatch team believes it needs more.
The team is currently located downtown, and are actively trying to relocate into the perfect makerspace about a few blocks away from their original space.
Craig stated, "that's been our biggest challenge yet. It's been very scary kind of not knowing where we were gonna go, but exciting now that we have a new location."
Because of this, they haven't had the opportunity to host any on site workshops yet. They plan to in their new location.
Instead, they've reached out to University of the Pacific and local high schools, where team members like Abraham and Daniel Koy, metal specialist at Hatch, have demonstrated their skills to future generations.
Hatch has also gotten involved in local community events like Sycamore Social, Dia De Los Muertos Street Fest and Stockmarket.
The nonprofit hopes to thrive with the help of grants and donations. Elazar Abraham hopes that the future of their business will grow their ability for 3-D printers, laser printers, and other cutting edge electronic equipment.
In the new space, the team plans to include off site housing as part of their arts in the residence program.
Artists can apply online for an affordable apartment, which started March 22, 2019, at the Medici Artists Lofts, located at 242 N. Sutter Street here in Stockton, Ca. This multi-story apartment building contains 1-3 bedroom units and will reach their total wait list once 1,000 artists apply. Artists who apply MUST demonstrate some form of practice in the creative field.
Hatch gladly plans to nurture their members by providing the space available to create an artistic portfolio in fine craft, with mentors guiding students every day.
Students who want to learn can apply for classes and artists who have demonstrated mastery in a fine craft can apply for positions. Classes are not yet distinguished, but be based on levels of proficiency. Like a college, students can come, live, and learn the ways of the classic and edgy maker.
In charge of the entrepreneurship program at Hatch, Craig hopes to introduce a successful outcome to the madness that art brings. It's a beautiful, yet daunting thing that Hannah wants to make feel more rewarding.
The Stockton Impact Corps is a well equipped resource center that help those who usually don't receive opportunity to gain and flourish, especially in business. Craig envisions art and entrepreneurship as a tight knit approach for artists to succeed financially and feel more confident about what they do.
Being in Stockton, these makers will create their own levels of expertise, and ebb and flow. New makers and artists will be able to envision a whole new future with the help of this collaborating team.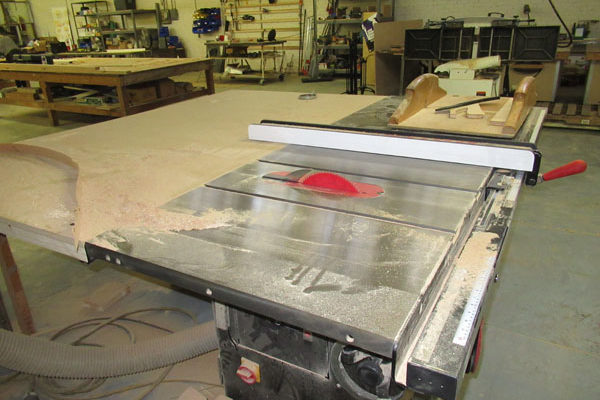 Table Saw at Hatch - alias: Saw Bench
Best used for large panels of wood - such as plywood or MDF (medium-density firewood)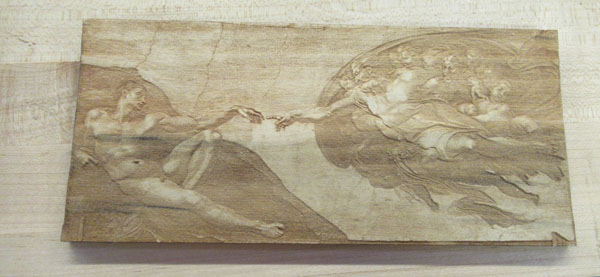 Michelangelo's fine touch
Wooden, digital fabrication of Michelangelo's Sistine Chapel painting. A painting that was extensive. Woodwork that took minutes.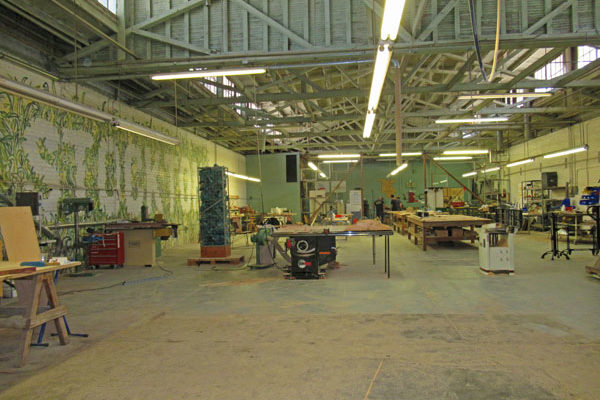 Hatch's Current Workspace
Where the magic behind the madness takes place. The Hatch team's sanctuary.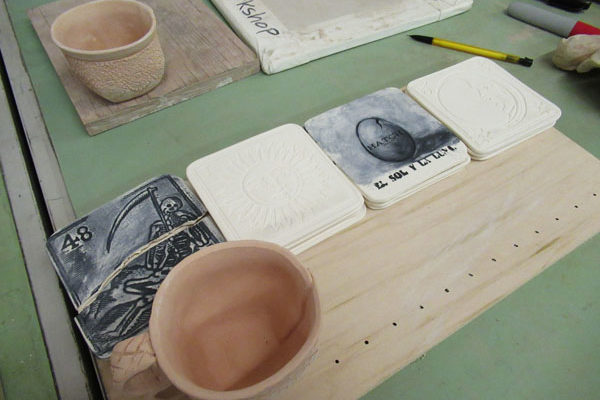 Ceramic Coasters made by Hatch
Among the first ceramic pieces made so far. This is the rough draft of their process.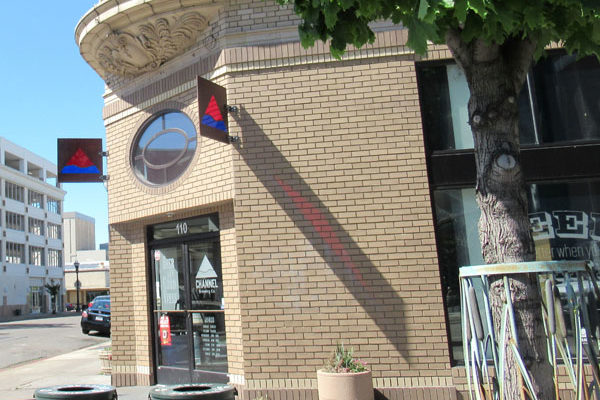 Metal Sign Contribution to Channel Brewery
Though community outreach, Hatch has provided Channel Brewery with two blue, red, and graphite signs, brightening up their location.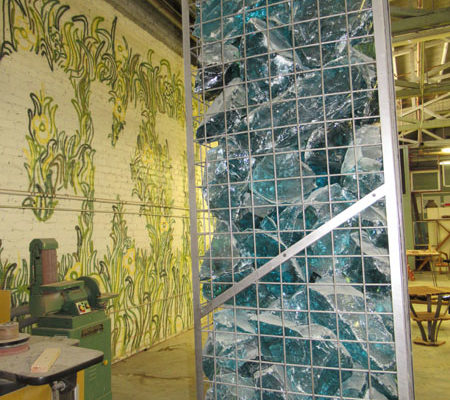 Crystal Castles
Through glassblowing and a fixture, the Hatch team created a glowing art piece made out of simply, yet hardworking ideas.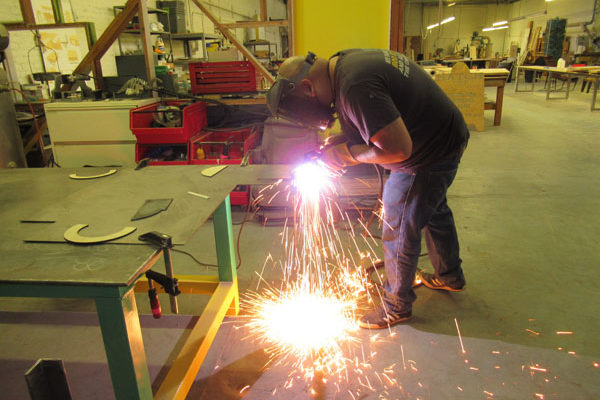 The Heart of the Metal Craft
Daniel Koy's passion for metalworking has led him to great projects. The heat doesn't bother him, it only empowers him.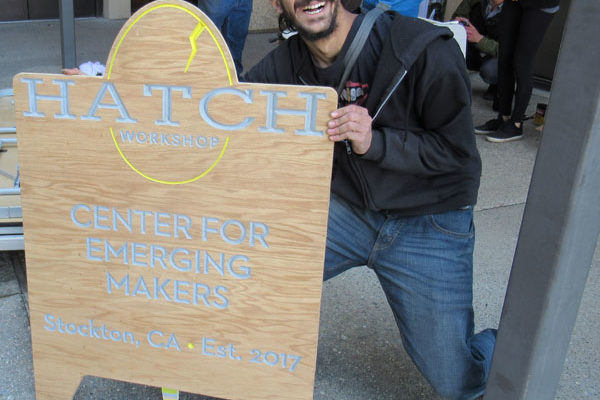 Elazar Abraham Hatching at the Stockmarket
Before Abraham came to Stockton he vitalized his thoughts by asking himself, "what does community mean?" The Stockmarket gave off site opportunity for community involvement.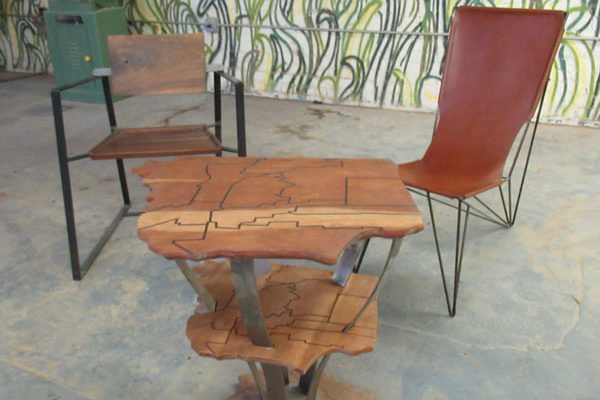 The Table of Inequality
A little Snippet of a much larger idea. Co-founder Malachi Trent created the table of inequality in hopes of awakening those about the overall population in San Francisco. More information: http://www.malachitrentdesign.com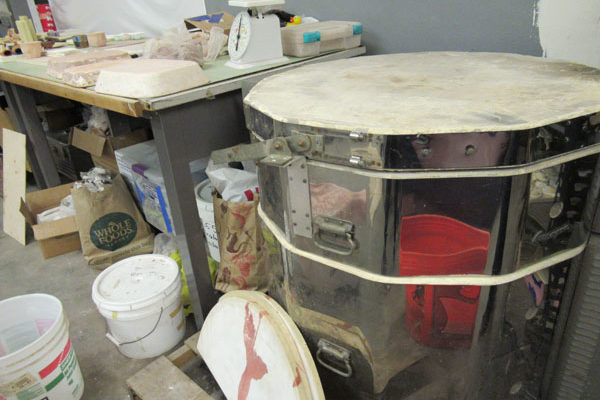 The Kiln Process
When pottery is ready to be glazed, the Hatch team glazes their works in 1,000 degree Fahrenheit kiln to bake its way to a shiny glow.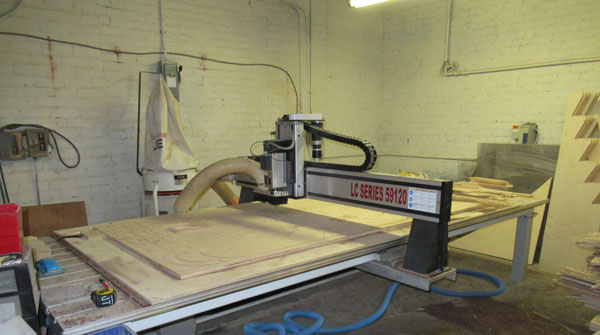 Digital Fabrication machine at Hatch
Controlled by a computer, this machine cuts and designs wood pieces into beautiful master pieces.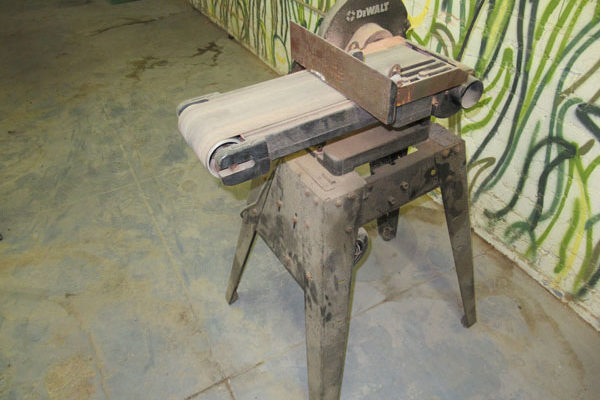 Rustic and Vintage at Hatch
An older machine donated to Hatch through their 501C3 non profit.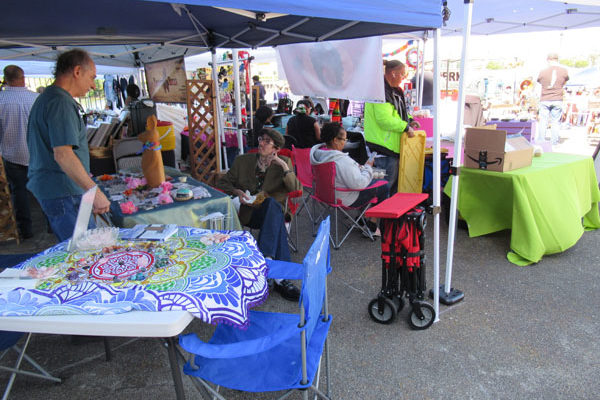 Local and Outsider Businesses Come Together at Stockmarket
Stockmarket it a great way to connect with other businesses and get a feel for what's offered to the public locally in Stockton, as well as other businesses far away.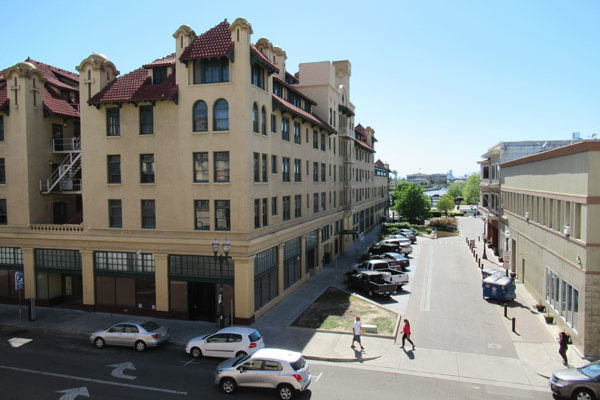 Beautiful Downtown on the Rise
This view of the waterfront gleans a new beginning. We see people walking down the street, clean sidewalks, and Hatch hopes to be apart of this growth.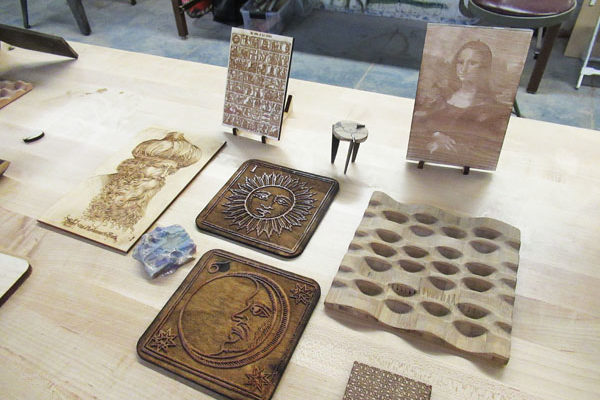 Crafts and Knick Knacks
Little murals, demonstration chairs, ceramic pieces and wood fabrications have all been worked on in the passion of the Hatch team.