Storyboarding
A storyboard is a way for multimedia reporters to give shape to a story before it is reported. Often stories will change in the process of doing interviews, but you want to try and have a rough drawing of how you want your story to come together.
YOUR JOB: Sketch out what you expect your project to look like. Make sure to include the required elements.
A 980×200 Photoshop built header
A 600-word story
A photo gallery
A 3-4 minute overall video
A 1-2 minute focused video
An additional multimedia element (Could be a second photo gallery, a third video, an interactive map, a hotspot map, stand-alone audio clips, etc.)
For an example, look to the "Sweet Success" story on Pulse of 209.
On the right side is a mock-up drawing of what the author thinks the page should look like. The left hand side is the final presentation. This project earned a high A.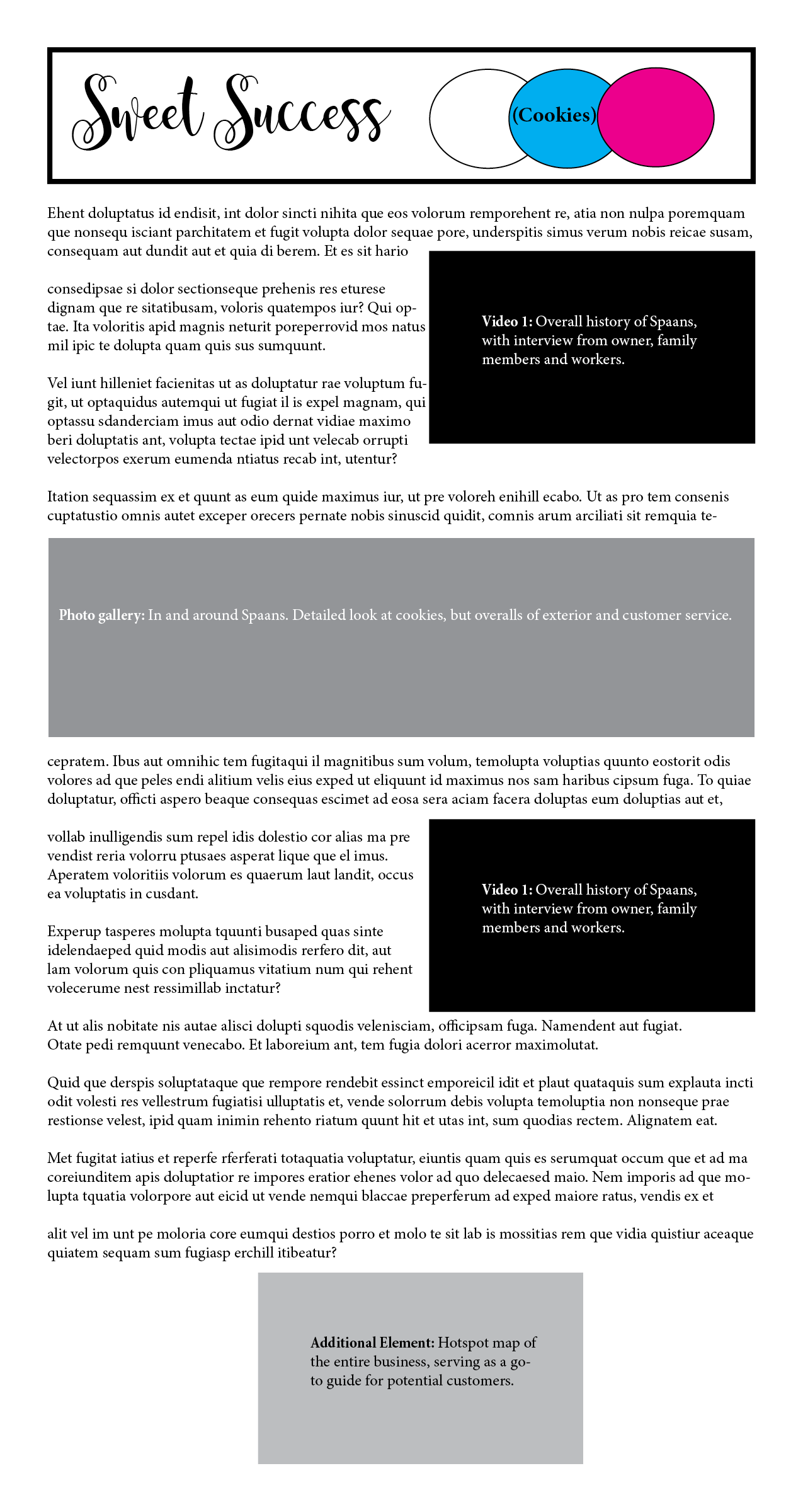 Let's take a more detailed look at this project. If you hover over the "info" notations, you'll read more about each of the multimedia pieces.

Your assignment:
Storyboard your project by creating a page with all of these elements. Look to other projects on this site to see how previous students laid out there projects. If you have questions about the storyboard process, please ask your instructor.
Video storyboarding
Before you go and shoot your video, you'll want to get a general sense of what will be necessary to put your video together.
Things to consider:
Who do I need to interview? Remember, you'll need at least three sources.
What do I need to shoot? It may be that you don't know that until after you do your interviews, but try to create  "shot list" to help you along.
How much video do I need? On average, for every three minutes of video, a person shoots at least an hour of footage. Remember that's an average, you may have more or less.
What type of shots do I need? You always want to make sure you have wide, mid and tight shots to give variety. Your project should be visual driven, so look for visually dynamic content.
You don't have to sketch out a frame by frame, but do create a list of visuals for your video and questions for your subject.